Numerous workflows are responsible for a company's ability to function properly. These workflows are often governed with significant human supervision to ensure the processes run smoothly as any interruption may impact the bottom line.
Maintaining manual supervision and organization for all workflows could lead to clerical errors, delays in response, and non-compliance, among others. Automating these processes can help improve productivity and efficiency in the workplace while also freeing up valuable employee time to focus on creative business aspects.
Factors Impacting Type of Workflow Document Management Software
Every organization has specific workflows that are intrinsic to the company. Choosing a system to manage workflows requires careful consideration to ensure that it is a right fit for your firm.

Volume of work
The number of workflows in an organization play a critical role in determining which system works best. Choose a system based on number of workflows and users that the system will be required to handle.

Compatible features
These days, workflow management systems are equipped with numerous features. However, each organization has specific requirements. Be sure to choose a system with features that are compatible with the workflow processes in your company.

IT capabilities
The smooth functioning of the workflow system will largely be determined by the IT capabilities in your firm. Factors such as the configurations, the OS used, and the scale of operations, all play a significant role in determining which system works best for your company.
Benefits of workflow management systems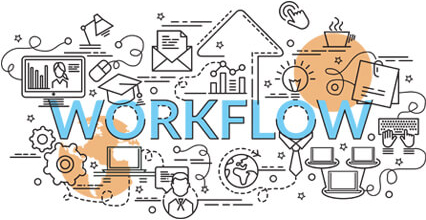 Improve compliance with audit trails.
Minimize voluminous paperwork.
Identify redundancies and improve process efficiency.
Reduce risk of manual clerical errors.
Improve productivity through better assignment of tasks.
Increase output with defined business rules.
Enables employees to focus on core business functions.
Provides transparency and real-time tracking for all workflows.
Monitor progress and quality of tasks performed.
Prompt employees and tasks timely for tasks.